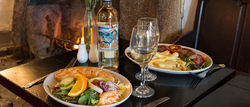 We are very proud to be serving you award winning meals with locally sourced ingredients!
From light bites to hearty meals, our new menu offers something for everyone. Our tasty starters include garlic mushrooms served on toast with a poached egg and homemade chicken liver pate.
Be sure to check out our classic dishes, such as the British favourite, ham, egg and chips (also Allen, the owner's favourite dish!). The menu features a great selection of vegetarian dishes, such as the fresh halloumi nicoise salad and the homemade roasted vegetable gratin.
We also have mouth-watering options straight from the grill, from succulent steaks provided by our local butcher Philip Warren to tasty homemade burgers. Our children's menu includes favourites such as sausage and mash and tomato pasta – dishes which are sure to keep the little ones happy.
If you are just after a quick coffee, why not enjoy a cup of our freshly ground Lavazza coffee from our state of the art Franke machine or wet your whistle with a refreshing pint from our well stocked bar.
Please visit our Dining page for opening times and please click here to view our new menu.