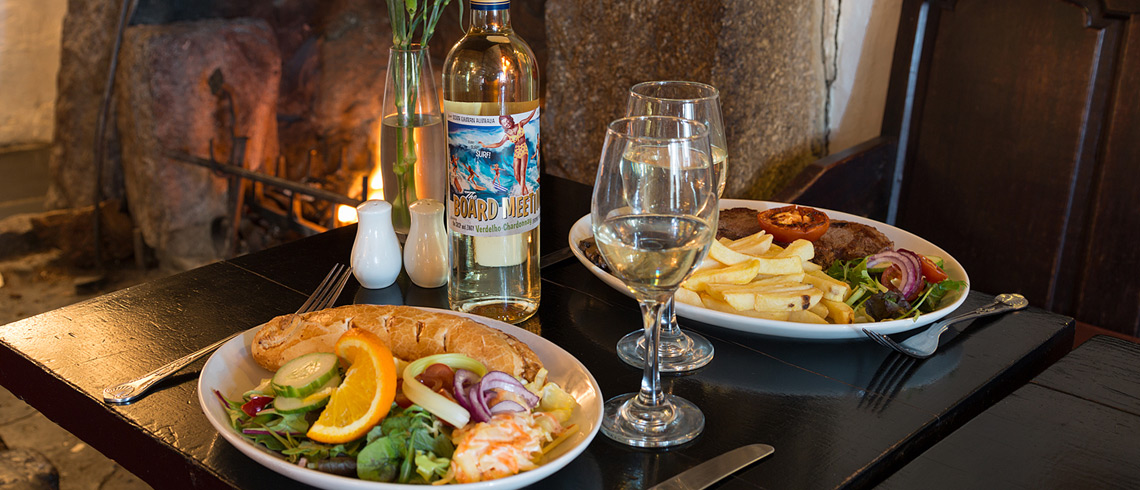 Our historic premises here at the Jamaica Inn might seem almost as old as the moor, but we still like to freshen things up. Since the change of ownership just over a year ago, the place has had not so much a lick of paint as a new lease of life, not to mention a new pantry full of great food.
Many years ago, the original Jamaica Inn visitors came to our place famished after their long, sometimes risky journeys. Whether we served the local constabulary or the rogues they kept an eye on, the food and ale must have tasted even better after an arduous trek across the moor. Over two centuries later we still aim to satisfy, whether it's a family meal or simply a great pint of Cornish craft ale to reward a long walk.

While we're on the subject of beer, we stock some crackers from St Austell and Dartmoor breweries, alongside the usual lager suspects. Jail Ale is always a favourite, while our very own namesake Jamaica Inn Ale is another cracking drop of neck oil. Cornish cider from Healey's and traditional Mead Liqueur also tend to hit the spot.

So what else can you expect on your next visit? Our new menu represents a proper bellyful of locally-sourced, home-cooked crowd pleasers. After all, we would be silly not to make use of the excellent produce of our location in Cornwall. Whether it's a dollop of heavenly Cornish clotted cream with your afternoon tea, or the best damned steak this side of Land's End, we'll smuggle it in for you.

Carnivores are especially well catered for, as we get our meat fresh from Phillip Warren's in Launceston, which ensures fabulous quality and fewer food miles. Order one of our juicy steaks or the formidable Mixed Grill and you'll see what we mean! Couple it with a tipple from our specially selected wine list and you have a real treat in store.
Vegetarians aren't short changed either however, because we also get fresh produce from Tamar Valley to assemble some formidable options. Dishes like our tomato, mascarpone and spinach taglietelle, served with pesto and parmesan shavings, are equally satisfying.

Whatever you fancy from our fresh look menu, we're sure you won't leave hungry! Nor does the story end there, because we're always looking out for the best local ingredients and looking for tasty options, as a glance at our regularly updated specials board will tell you. Our full Cornish breakfasts also go down a treat, while we also provide cracking light bites and tempting picnics to order, should you want to take some grub out into the fresh air. Bon appetit!