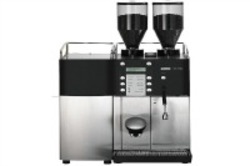 Coffee is the most popular drink worldwide with over 400 billion cups consumed each year* and therefore, we couldn't let this go unnoticed! Jamaica Inn has just taken delivery of a brand new state of the art Franke coffee machine, which is sure to delight all coffee
lovers.
This innovative system produces the highest quality coffee and uses fresh milk and real coffee beans in order to make the perfect cup of coffee. Britain consumes 500g of coffee per person, per year, so we should all appreciate a quality coffee.
Did you know that in the UK, 57% of coffee is drunk at breakfast; 34% between meals and 13% at other meals?
Whether you have a preference for the milky latte, the sumptuous cappuccino or the rich espresso, you will be in for a treat. Why not partner your brew with one of our many sweet treats, such as shortbread or Cornish fudge?
*According to www.realcoffee.co.uk