Just a short cast from the Jamaica Inn, you'll find some excellent places to fish. We sell day tickets to Colliford Lake (£15.50/£13.0 concessions, catch and release), one of the best fly fisheries in Cornwall, with some stunning brown trout. Meanwhile, the cool waters of Temple Trout Fishery also provide year round sport for rainbow trout. In this blog update, fishing author Dominic Garnett discusses the best flies and tactics for these waters:
For anyone who enjoys a spot of fishing, East Cornwall has to be one of the most unsung parts of the whole southwest of England. I get the feeling the locals like it this way; there is some terrific sport in truly peaceful surroundings, to say nothing of the area's uniquely wild feel. Whether it's the eeriness of a foggy morning at Temple, or seeing a hooked trout leap when fishing Colliford Lake, this is fishing to stir the senses of any true angler.
Whether you stay for just an afternoon or a week, there is some great fishing near the Jamaica Inn. You could make it a quick cast or afternoon detour, but with so much water to explore, we are also the ideal location to stay for a fly fishing holiday in Cornwall.
Colliford Lake Fishing
Perhaps the biggest surprise of all, quite literally in terms of size, is Colliford Lake. It might seem daft to describe some 900 acres of water as a "local secret", but I'm often surprised at just how quiet it is. Perhaps it is the sheer scale of the place that can be daunting to the visitor? Those who give it a try are often pleasantly surprised however.
Fishing Colliford Lake is easily arranged with no booking required: all you need to do is fill out a ticket at the Jamaica Inn and you're away. Hit the bank on the right day and it offers some phenomenal fishing for brown trout. Stocked at a sensible size of half a pound or so, these fish quickly acclimatise to their surroundings, becoming as good as wild. Even the smaller ones are fit fish, but if you're lucky or persistent much larger trout are present. These fish can live and grow in the lake for years, reaching well over the five-pound mark.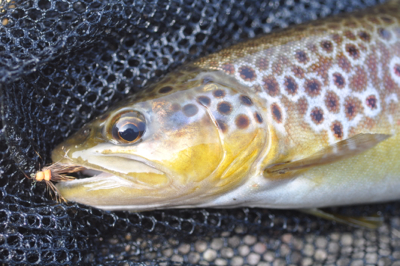 It can seem a challenging place to fish initially, but the first lesson to note is that you don't need to be a champion caster because many fish are found very close to the shore. Here they lie in wait for hatching insects, or those blown into the lake. In fact, while you wouldn't want to fish in a gale, breezy days can provide fine fishing as flies are swept into the lake.
Perhaps the classic way to fish is with a team of two or three classic, bushy wet flies such as the Bibio, Zulu, Kate Maclaren or Soldier Palmer. I also like to mix in some smaller, subtler flies however, like a Black Buzzer or Daiwl Bach. A six or seven weight rod and reel are about right, usually with a floating line. If there's any wind, you can retrieve your flies quite energetically through the surface chop. The craggy corners and bushy edges of the lake can produce well whenever the wind blows free food to the trout.
Gentler conditions can be the real test on Colliford. On sunny, calm days the lake looks beautiful but the trout can grow spooky or move deeper. On such occasions, a good plan B is to try a dark lure such as a Black Tadpole or Damsel on an intermediate or sinking line. In fact, this is a good ploy at any time if you're after a bigger fish, because the larger trout have a definite aggressive, predatory streak. I still wonder about a particular fish that got away that I hooked from the north shore, that leapt clear of the surface before spitting out the fly.
Those who do best at Colliford Lake tend to be those who use their feet often. Find one of several little car parks, before venturing forth. The trout won't come to you, after all, and if you only fish near the car you'll miss many quieter and better areas. Timing can also be important however. Fishing Colliford on a warm evening can be especially capital. The lake has rich insect life, but the sedge flies are a particular highlight. Try tweaking a buoyant copy such as a Sedgehog through the waves and you can be rewarded with explosive takes and some of the most exciting sport of the year. Whether it's to celebrate or commiserate though, do stop off at the Jamaica Inn for a well-earned pint afterwards.
(NB: Thanks to Frazer McBain for main image)
Temple Fishery (Various tickets, starting at £9.00 for 2 fish on Teal Lake)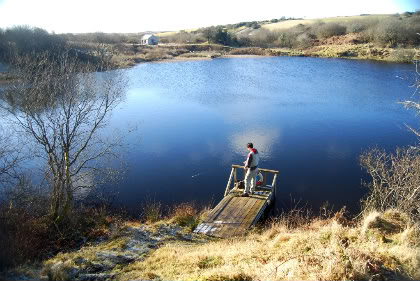 For anyone looking for quality stillwater trout fishing in Cornwall, Temple Fishery is an enjoyable day ticket option. A very different beast to the often tame day ticket fisheries in Cornwall, it is an old clay working site with deep, clear waters and some formidable trout in residence.
You have two pools to head for here: Mallard Lake is the main event, fly fishing only with rainbows to double figures, while Teal has smaller fish but can be tackled with any method. Both lakes are very deep- and while this does sometimes represent a challenge, it also means that the fish have cool water available right through the summer, making the fishing fairly consistent.
A single nymph or team of buzzers can work, or even dry fly fishing when you see rises. But perhaps the most reliable way to catch at Temple is with a fast sinking line and lures such as a Humungous, Cat's Whisker or Viva. If you're not getting bites, try counting the flies right down into the depths. Don't go undergunned on line strength either, because the next bite could be a ten pounder!
Last but not least, the fishery also has a neat little fishing shelter where you can find a working toilet, hot drinks and even a few flies and bits of tackle for sale. Do check their website for current news, prices and opening times: www.templefishery.co.uk
Coarse and Carp Fisheries:
Besides the game fishing options near the Jamaica Inn, there are also several stocked waters offering some truly affordable coarse and carp fishing in Cornwall. East Rose Farm is one of the nearest to use, with several pools which can be fished on a day ticket. You'll find bream, tench, roach, rudd, crucians and carp among other species here, along with reasonable ticket prices and a discount for younger anglers. Pole or waggler fishing will both work excellently here, with simple baits such as bread, maggots or sweetcorn. More details here: www.eastrose.co.uk/fishery.php
For more on the subject of fly fishing in Cornwall and Devon, our guest blogger Dominic Garnett's site has further resources, such as photograpy, flies and much more. He is also a licensed coach who welcomes travelling anglers, including absolute beginners: www.dgfishing.co.uk